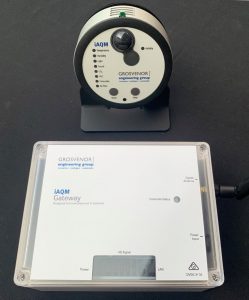 The Department of Home Affairs (DoHA) self manages all their offices across Australia. This raises many operational challenges, one of which is to provide a safe working environment for their teams.
The challenge was to ensure they work in healthy clean air at the right temperature at all times. When the bushfires occurred in the summer of 2019-2020, their ability to achieve this aim was compromised. To alleviate the issue, they engaged a 3rd party to measure the air quality in every building across Australia at 4am local time, each and every day.
A decision was subsequently made whether it was safe for staff to enter the building. If it wasn't safe, staff were told to work from home. This practice was undertaken daily across all offices affected by bushfires.
Working with the Grosvenor Engineering team, Electronics By Design developed a wireless indoor air quality monitoring  sensor with 9 sensing parameters using the Zigbee wireless platform.  Electronics By Design proposed to use this product to resolve the client's issues as it could measure many parameters. Most importantly, it included particulate matter, commonly known as PM2.5 and PM10. The PM readings detect dirty air which is an effective way to detect bushfire smoke making the iAQM an ideal solution for DoHA. 
Originally designed to be permanently installed in a building, the iAQM system was not portable.  Since DoHA wanted a portable system, we worked closely with Grosvenor Engineering and DoHA to re-engineer it, so it could be easily relocated.
A customised dashboard was developed based on an analytics engine that was tuned to calculate PM levels based on a specific set of values and ranges supplied by DoHA. Portability brought additional challenges, as the solution was connected to a standard powerpoint and could be disconnected. This meant some troubleshooting was required to alleviate potential issues. These changes were implemented in the dashboard to generate a bespoke solution.
The final outcome was delivered and commissioned within the expected timeframe despite the challenges of COVID-19.