Indoor Air Quality Monitor (iAQM)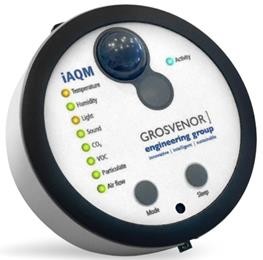 Grosvenor Engineering Group are a trusted building services partner to leading property portfolios across Australia and New Zealand. With over 1.4 million technical assets under their management, they are leaders in the commercial space, maintaining and servicing HVAC, Fire, Electrical and other systems.
Electronics by Design was engaged by Grosvenor to develop an indoor air quality (IAQ) monitor. Measuring and monitoring IAQ levels is a requirement of both Australian and International standards including ASHRAE, LEED®, and WELL Building Standard®. The challenge for EBD was to develop a functional product solution to monitor air quality yet be aesthetically pleasing for an office and scalable for a large multi storey space.
Electronics by Design facilitated various open and honest discussions on the requirements of the project. We then undertook extensive pre-work to develop the architecture needed. Through our highly cooperative process, we underwent extensive field-tested to identify and resolve any issues.
Working with the Grosvenor Engineering team, Electronics By Design developed a wireless indoor air quality monitoring sensor with 9 sensing parameters using the Zigbee wireless platform. These parameters include: 
Temperature

Relative humidity

Light
Sound
Carbon dioxide CO2
Volatile Organic Compounds (VOCs) including formaldehyde
Particulate PM2.5 and PM10 particle density
The iAQM can be wall or desktop mounted and is therefore able to measure air quality in a general environment or a specific location such as an individual person's desk.
iAQM uses a ZigBee mesh wireless architecture to allow each unit to communicate with a gateway. It allows data to hop from one iAQM to another until it reaches the gateway. By allowing hopping, the network can reach a much larger area and extend the network virtually without range limitations.