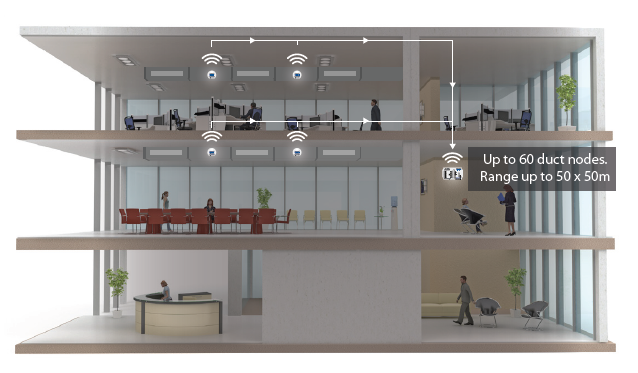 Grosvenor Engineering Group are a trusted building services partner to leading property portfolios across Australia and New Zealand. With over 1.4 million technical assets under their management, they are leaders in the commercial space, maintaining and servicing HVAC, Fire, Electrical and other systems.
Electronics by Design was engaged by Grosvenor to develop a solution to sense and monitor the health and performance of an air conditioning system, while also being unobtrusive and easy to install.
We explored many options to make this viable and performed preliminary testing to arrive at the correct solution. The team consisted of engineers from various disciplines including HVAC and electrical (BMS).
The solution was to create a wireless battery powered sensor fitted to air conditioning ducts inside the ceiling space. Up to 60 duct nodes can be installed in an application. 
The duct node sensors monitor temperature, pressure and vibration throughout an HVAC duct network and send data continuously to the VT Hub.